As you may have expected, we are postponing our dinner and honors event scheduled for November 21, 2020. We just can't meet in person for this ceremony under the current pandemic conditions.
We DO want to host in-person event for this year's original honorees when it is safe to do so. Overwhelming feedback from previous honorees and family members underlines the importance for recipients, families and friends to be able to gather in person to receive these awards. We are looking forward on returning to our regularly scheduled 2021 ceremony next November.
For this fall, we are taking this opportunity to honor candidates whose recognition we have deferred because we could not find any living relatives to accept the awards. This slate of honorees will be recognized virtually through an online video. We will also produce a limited number of copies of our sought-after and well-received program book, with complete feature stories about each honoree.
We intend to release both a video and program book to recognize these honorees. To finance their production, we will also host an expanded online auction and raffle. If you would like to be notified via e-mail and are not already on our newsletter list, please sign up here.

We will post updates with details about the 2020 honorees, as well as specifics about how you can bid in the online auction, buy raffle tickets, or purchase a program book.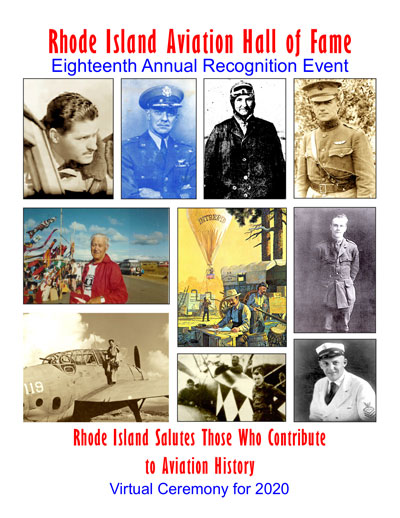 If those activities are not for you, we hope you will consider making a donation to keep our program alive and vibrant.
Your gifts help to broaden knowledge of Rhode Island's aviation heritage, acknowledge the contributions of outstanding individuals in the field, and keep that information alive for future generations.
Can we count on your support? Donate today!
RIAHOF acknowledges and thanks the following companies, organizations and individuals for their support of our deferred 2020 honors ceremony:
More in News:
In Memoriam: Brian Murphy (1943-2021)
In Memoriam: Charlie Pitts (1963-2021)
Our 2020 Awards and Auction are Going Virtual!

In lieu of an in-person ceremony for 2020, we will honor a slate of honorees virtually through a video. We will also produce a limited number of copies of our sought-after program book, an online auction and raffle.